Last updated 15 April 2002

| index |
The Total Marshall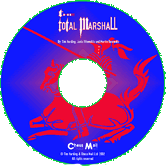 by Tim Harding
Introduction
Tim Harding's fascination with the Marshall Attack shows no sign of abating! His credits already include co-authoring "The Marshall Attack" in 1974 (with Bob Wade), followed by a solo algebraic performance in 1977 with "Spanish (Ruy Lopez): Marshall", and he co-authored "The Marshall Attack" again in 1989 (with a sizeable contribution this time from John Nunn).
Here, he applies an e-book treatment on CD to produce a thoroughly comprehensive review of all the Marshall variations, including a huge games database. Tim is joined this time by new co-authors - the Latvian CC GM Janis Vitomskis, and German amateur player Martin Bennedik. A number of other masters make specialist contributions to specific variations.
Frank Marshall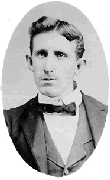 Before dipping into the CD, I looked through my library for Frank J Marshall's "Best Games of Chess", published by Dover in 1960 from an American original in 1942. Frank was born in New York in 1877 to an English father and (perhaps appropriately for this review) a Scots/Irish mother. He travelled extensively in Europe, including a fondly-remembered month spent at the Glasgow Chess Club in 1903.
Frank's playing style was very much drawn from the romantic period of chess, and he delighted crowds with his swashbuckling play (including being showered by gold coins after a game with Lewitsky [no, not Monica] in 1912). US Champion from 1909-36, he was capable of beating all the great players of his day, but sadly didn't possess the temperament to carry off the world crown, losing to Lasker in their 1907 match.
Funnily enough, Frank doesn't include the famous debut game of the Marshall Attack in his "Best Games" book, though he does provide notes for improvement in an openings appendix. The tale goes, that, having lost to Capablanca in their 1909 match, Marshall publicly avoided the Ruy Lopez for 9 years, but secretly worked on the gambit, and uncorked it on Capablanca in the 1918 Manhattan International Tournament.
Alas, Capa dealt with the prepared novelty admirably at the board, and won the game! Despite the inauspicious beginning, the opening has enjoyed lasting appeal amongst players looking for an aggressive defence against the Ruy Lopez.
The Marshall Attack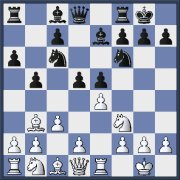 The Marshall Attack arises after: 1.e4 e5 2.Nf3 Nc6 3.Bb5 a6 4.Ba4 Nf6 5.0-0 Be7 6.Re1 b5 7.Bb3 0-0 8.c3 d5
The main lines are classified under C88/89. The gambit seems to have equal appeal to OTB, CC and internet players.
Big names who have popularised it include Spassky, Geller, Ivanchuk, Sokolov, Nunn, Adams and Short, and both Adams and Anand played it against Ponomariov at Linares this year.
As a benchmark, just over 2000 Marshall games are included in ChessBase's Mega 2002 Database CD.
Now, at length, to the Chess Mail offering!
Content
The Total Marshall CD does not auto-run, so new owners are well advised to read the accompanying notes (either on paper or the read_me file on the CD). Apart from the read_me file, the only file visible outside the various folders is the click_me file, designed to launch your browser and get you quickly into viewing some of the heavily annotated material. However, my review copy required some file uploading and renaming before everything worked with the browser - hence the need to read the instructions closely!
This was a minor inconvenience, but, having read all the introductory material now, I think the best route into the CD is by using the supplied PDF file (you may have to install Acrobat Reader if you haven't already got it - the CD provides a complimentary program copy). Even experienced Marshall players will benefit from first understanding the context in which the CD was produced, which I think is best captured in the pdf document.
Having gone through basic familiarisation, the CD can now be seen to contain the following folders:
Acrobat Windows. As above, this is where the free copy of Acrobat Reader is located.
ChessBase Light. A free copy of this database software for users without an installed database.
Database Folders. All the Marshall material, in Chess Assistant, ChessBase (CBF and CBH), and PGN formats.
Openings Tree. A ChessBase-format tree database, which can be used with Fritz and other software.
HTML. Introductory and annotated game material, capable of being viewed by your browser without a database needing to be installed (and which uses the Palview game display program from Palamede).
PDF. Introductory and annotated game material, which can be viewed (and printed) using Adobe Acrobat. (Also in here is a promotional copy of Chess Mail from 2001).
The key components of the Marshall material can be further broken down into:
Complete Database. Containing over 7600 Marshall games from a multitude of sources, with material going up to 2001.
Elite Database. A pared-down version of the Complete Database, containing over 5900 "serious" games, with almost 900 annotated (the Openings Tree is derived from the Elite Database).
Fully Annotated Games. 50 thoroughly researched thematic games, available in database, browser and PDF formats (including Kilgour-Vitomskis 1998).
Surveys Database. 37 Marshall lines dissected by the co-authors and their specialist contributors, including highly analysed and nested variations suitable for advanced players.
The sheer volume of information, and the depth of research are both highly impressive. The introductory sections (theory and recommendations) plus the surveys section particularly appealed to me - here principles and practice are melded into authoritative commentary on what really works and what doesn't. The authoring style of pro-Black (Harding and Vitomskis) versus pro-White (Bennedik) ensures an objectivity and balance in evaluation. Even a cursory comparison of the 1989 book with the thematic section on CD shows how quickly the main line can be undermined [17... Re6 18.a4 f5 was the 1989 notation; 17... Re6 18.a4 f5? is how it reads in 2001, with 18... Qh5! (the Spassky variation) preferred, backed up by deep survey analysis]. Only the Anti-Marshall lines remain unrevised from the book.
The authors claim that this e-book is "Total" because nothing has been left out - conventional books have to pander to fashion and space constraints. They're right! All the worthwhile historical Marshall material, right down to Tim's card indices, has been gathered together, and its value has been further enhanced by thorough organisation and computer analysis.
On completion of my review, I had one criticism, one query and one recommendation, viz:
Criticism
The distribution of computer literacy is still very uneven out there - future productions of e-book technology would benefit from a setup or install utility program which would automatically guide CD users painlessly through getting started. Tim's own technical expertise doesn't extend this far, but I'm told that it isn't too difficult - perhaps he could get some assistance from chess enthusiasts with the relevant skills rather than running up a big bill at some software house!
Query
Tim is exploring follow-up ventures, including the "Total MacCutcheon" and the "Total Bishop's Opening". I asked him if he planned an update service for the series before throwing his energies into new titles. Reasonably enough, the answer was no - new Marshall games are fairly easy to come by on the web, and stronger players will prefer to seek to gain advantage by analysing these, then updating their own databases and notes. If there was to be a benchmark revision of the main lines in future, it would probably be done on the same basis as MegaCorr - purchasers of version 1 would receive a discount.
Recommendation
Buy it! This is a really good piece of work, combining obvious enthusiasm, practical experience, diligent research and objective analysis. Its depth of cover compares very favourably with other openings monographs, whatever the technology. If you are not a Ruy Lopez or Marshall player, this will certainly educate you at whatever level you play. If you are a practitioner, you'll need this to ward off other exponents (particularly if they've got the CD)!
The "Total Marshall" is produced by Chess Mail, and retails at £17.50 (28 Euros). Tim will take your orders at 26 Coolamber Park, Dublin 16, Ireland.